UPDATE: In the wee hours of the morning, as August rolled into September, the WLOX Studios received a surprise yarn bomb from Knotty Harts! Check out the message: "Nothing is impossumble". Read more about this amazing, and anonymous, local artist in this feature story we published earlier this year.
---
BILOXI, Miss. (WLOX) - Picture this: You're taking a stroll or driving to work along your usual route, when you look up and see something new- a brightly-colored, crocheted piece of art on the nearest fence or tree. It features a cute animal and a clever pun, entirely made of yarn.
You may wonder where the design came from and how it seemingly got there overnight, but even without knowing you can't help yourself from cracking a smile.
There's over 100 designs just like that on the Gulf Coast, stretching from the suburbs of New Orleans all the way to Vancleave and up to Hattiesburg.
The mastermind behind it all? Knotty Harts, a mental health advocate and anonymous yarn bomber, "spreading love, color and conversation with yarn in the streets."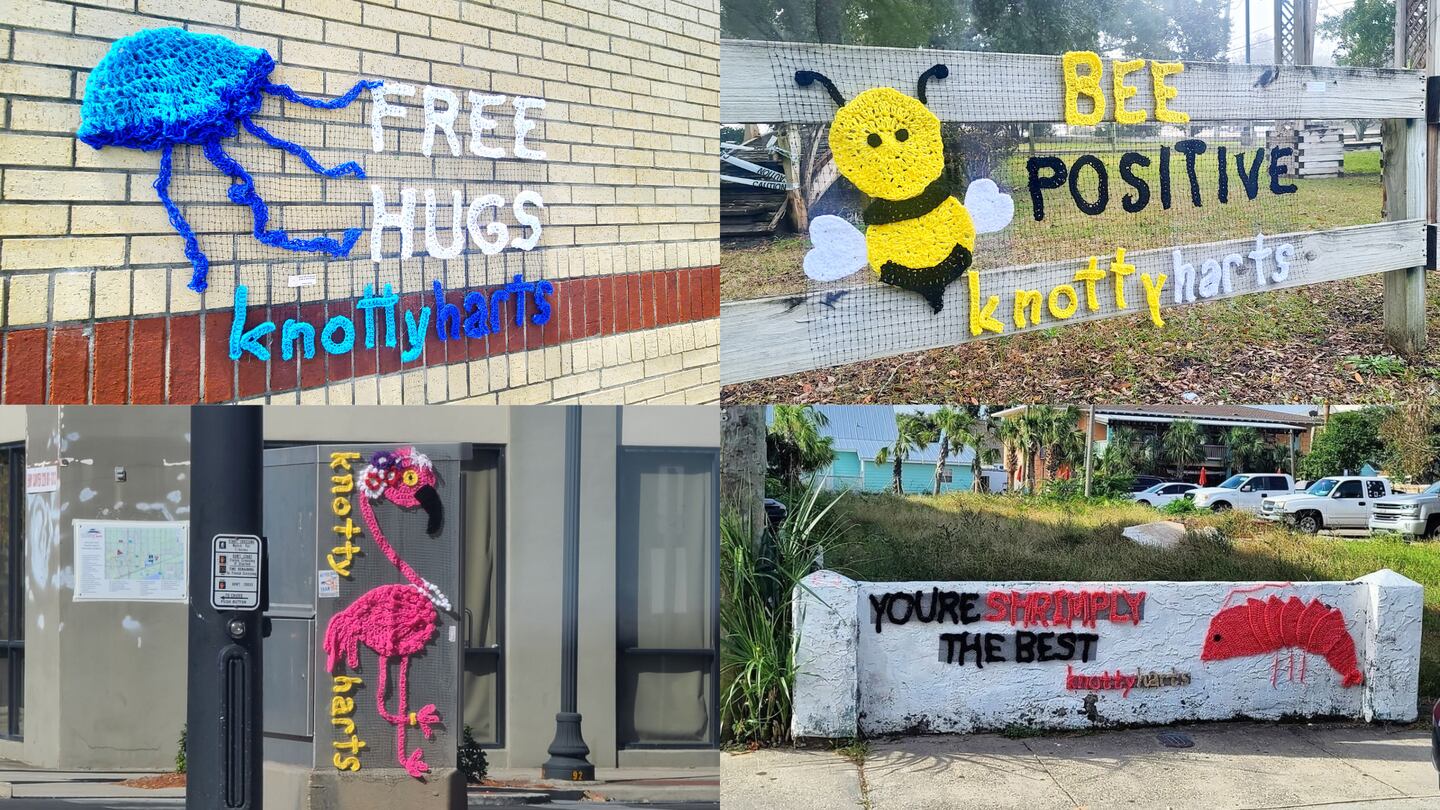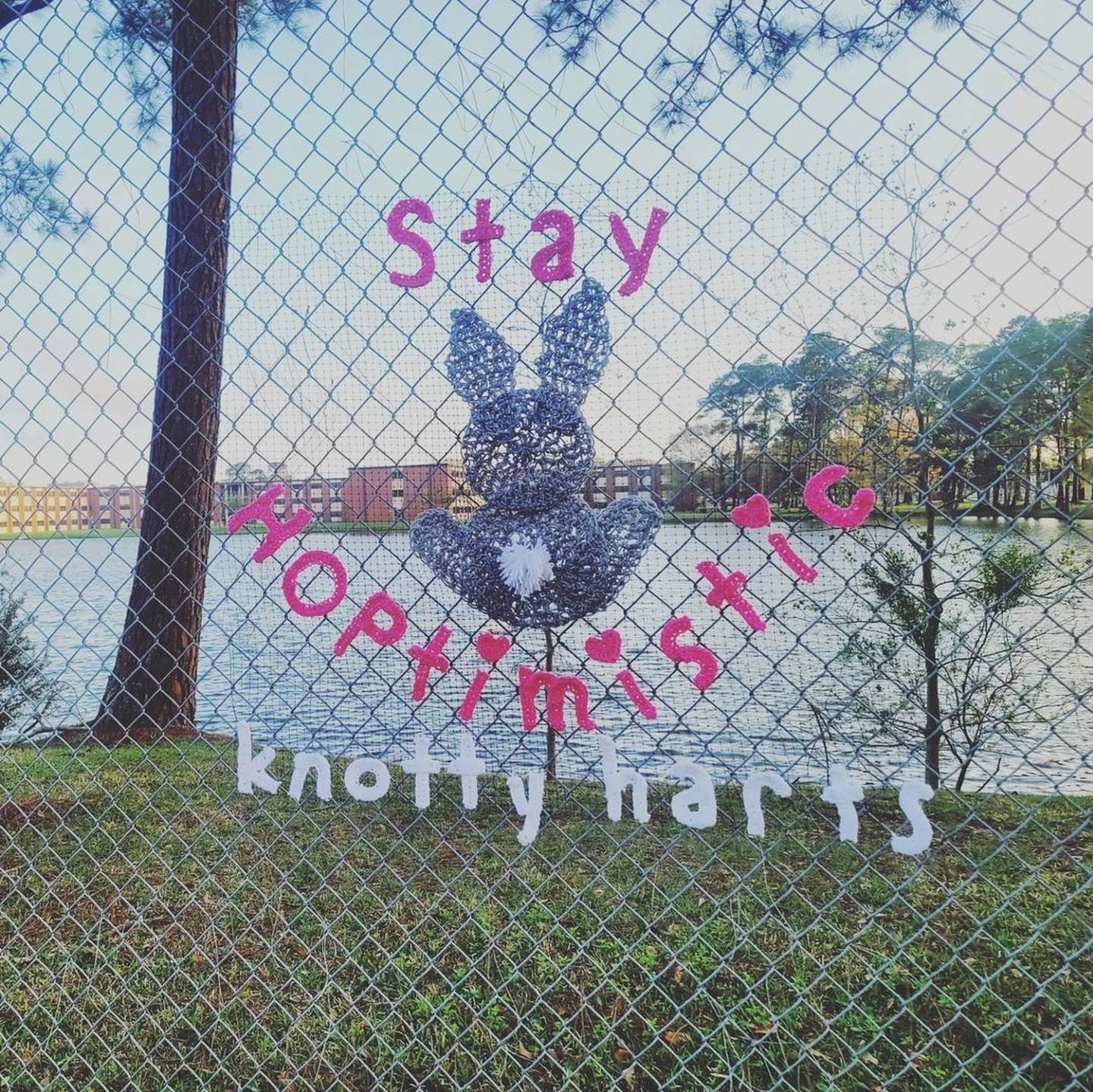 WLOX reached out to Knotty Harts to learn more about the logistics and motivations behind their designs. Though Knotty wanted to remain anonymous, they agreed to a virtual interview.
The creator's love for knitting began about 15 years ago, in a small community class in Gulfport making dish towels. Years later, their love for the craft blossomed into a full-fledged project. "Knotty Harts" hit the streets of Bay St. Louis in 2021, during the Coronavirus pandemic.
Knotty says the project began as a labor of love, as a way to connect people and raise community morale during such a difficult time.
"Observing the mental toll the pandemic was inflicting, yarn bombing seemed to be a unique outlet to share widespread happiness," Knotty Harts wrote. "Much of Knotty's work is centered around mental health and the importance of being happy and well. We can all thrive when we take care of each other, and a little kindness goes a long way."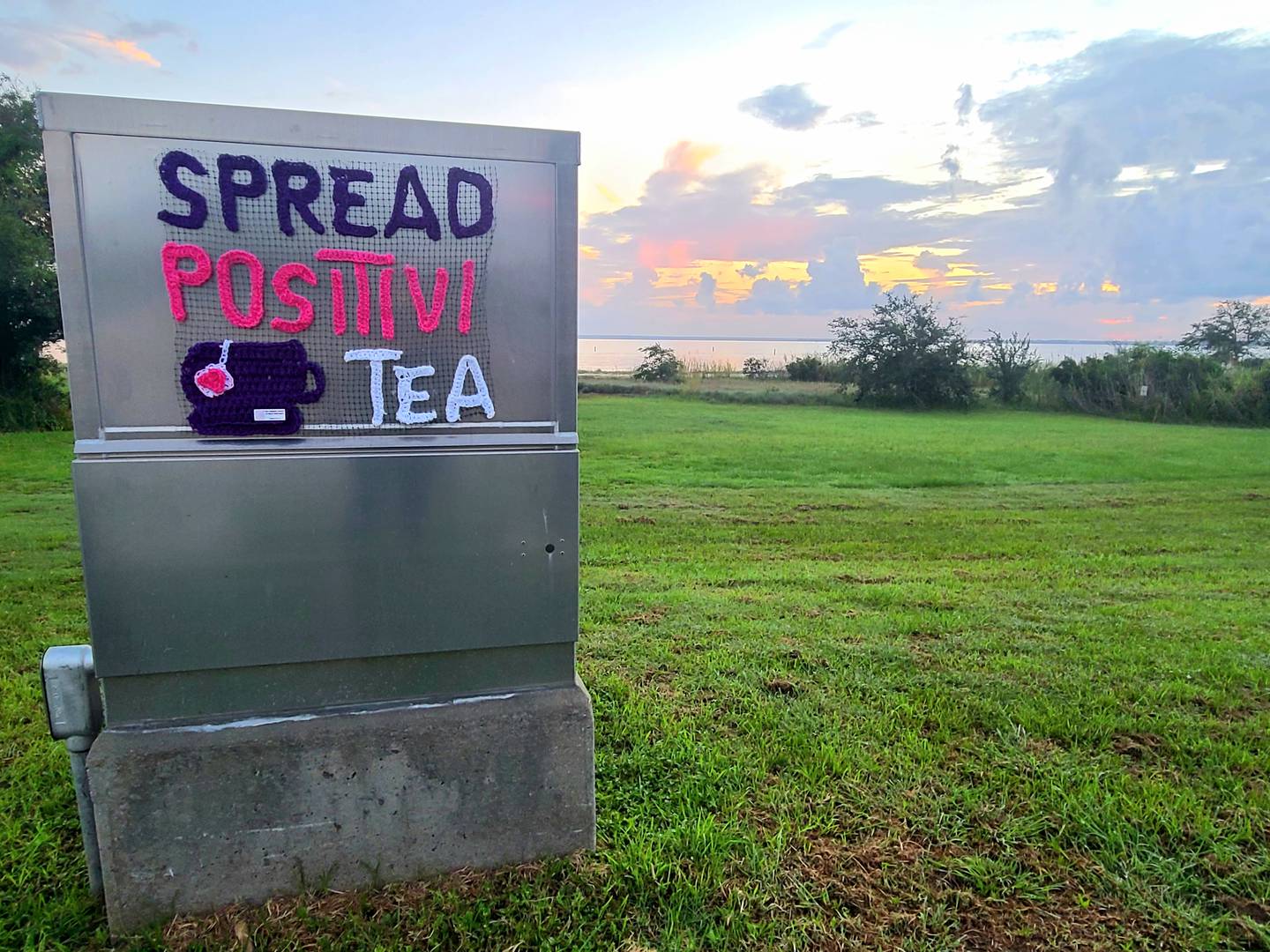 Knotty's very first design featured crocheted roses and was placed on a stop sign where someone had previously wrote: "and smell the roses." Knotty says the design only lasted 12 days "in the wild," but it lit a fire of inspiration that later became Knotty Harts. Almost two years after those first roses, Knotty Harts has been shown and commissioned in more than a dozen U.S. states, Canada and Germany.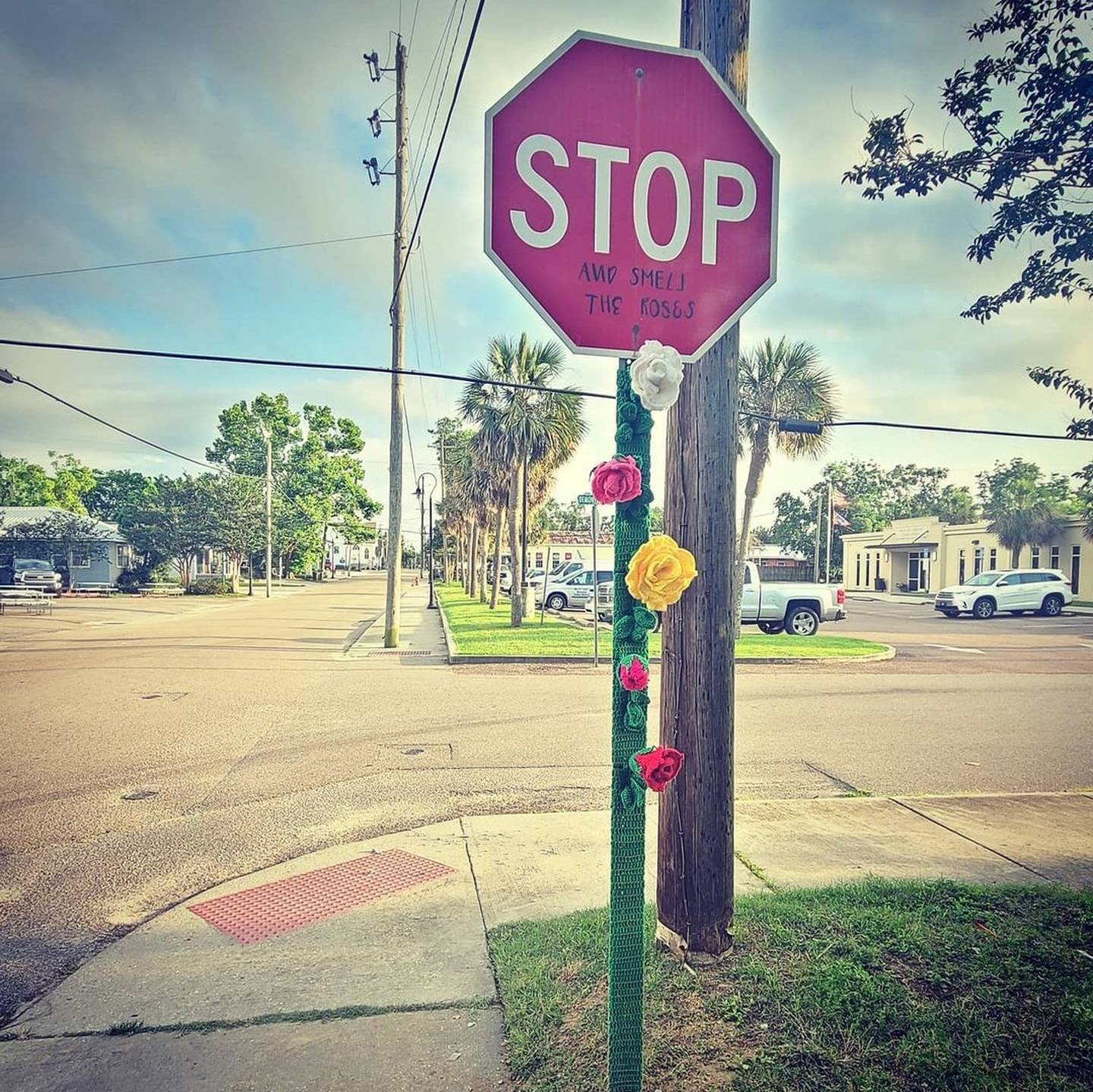 Knotty started leaving even more elaborate designs on the street for people to find- a homage to childhood scavenger hunts. But Knotty doesn't stop at street displays; they've also made and given out thousands of crocheted "street grabs," including over 2,000 hearts, several hundred pride pieces, hundreds of crocheted eggs, and over 300 hats, gloves, scarves and blankets to keep people warm in the winter months. They also make signs and gifts and coordinate scavenger hunts.
There is one sole creator behind Knotty Harts, with designs taking anywhere from weeks to several months or even up to a year. But others help with installs, maintenance and gaining permissions for locating street designs. The group hits the street at night, so when people wake up, there's a new, colorful addition to their normal path.
"The idea phase is probably the most mentally challenging part, whereas crocheting is the fun, therapeutic part," Knotty Harts wrote. "The ideas really come from everywhere. The Knotty brain is fully of punny cheesiness."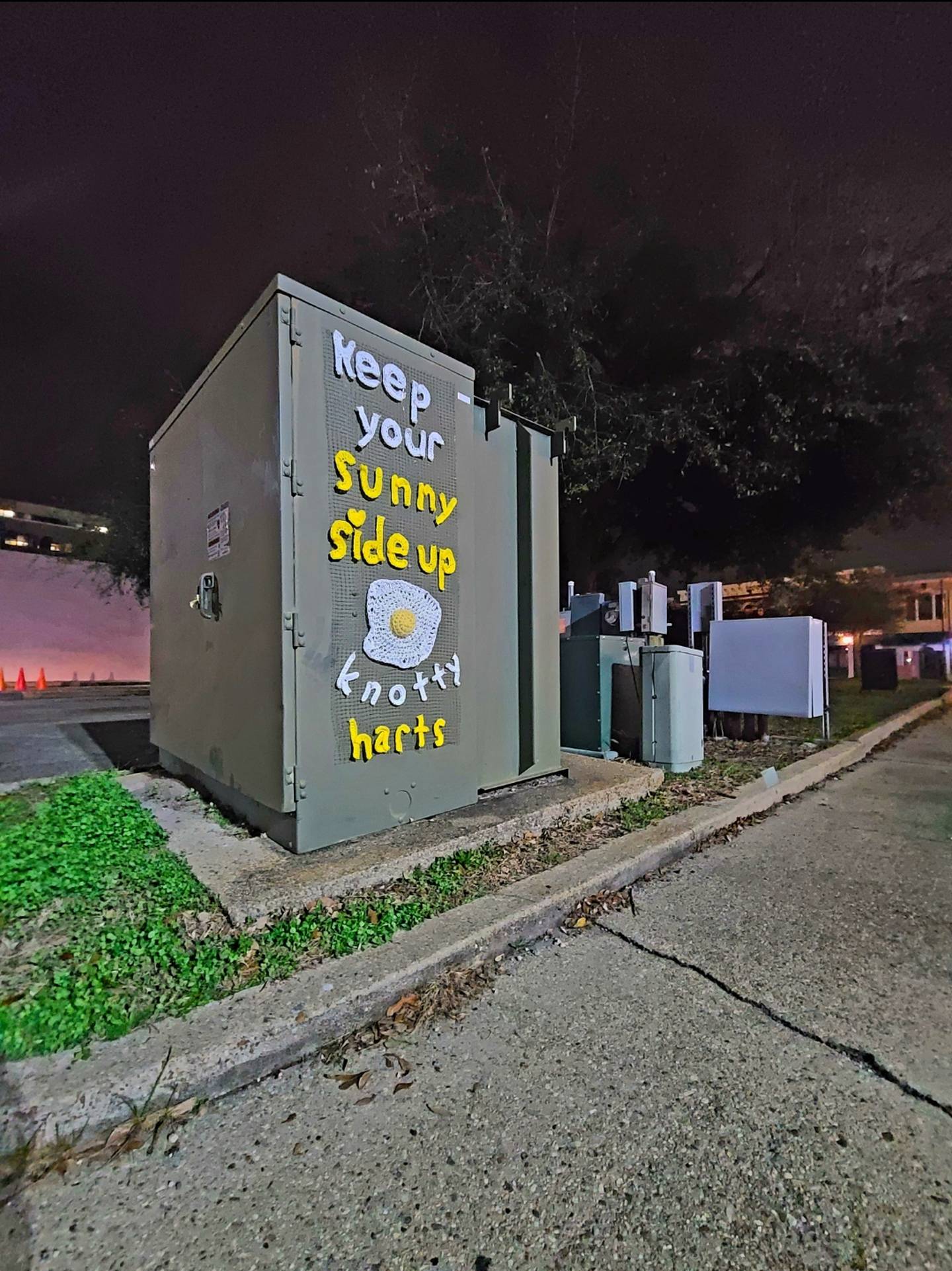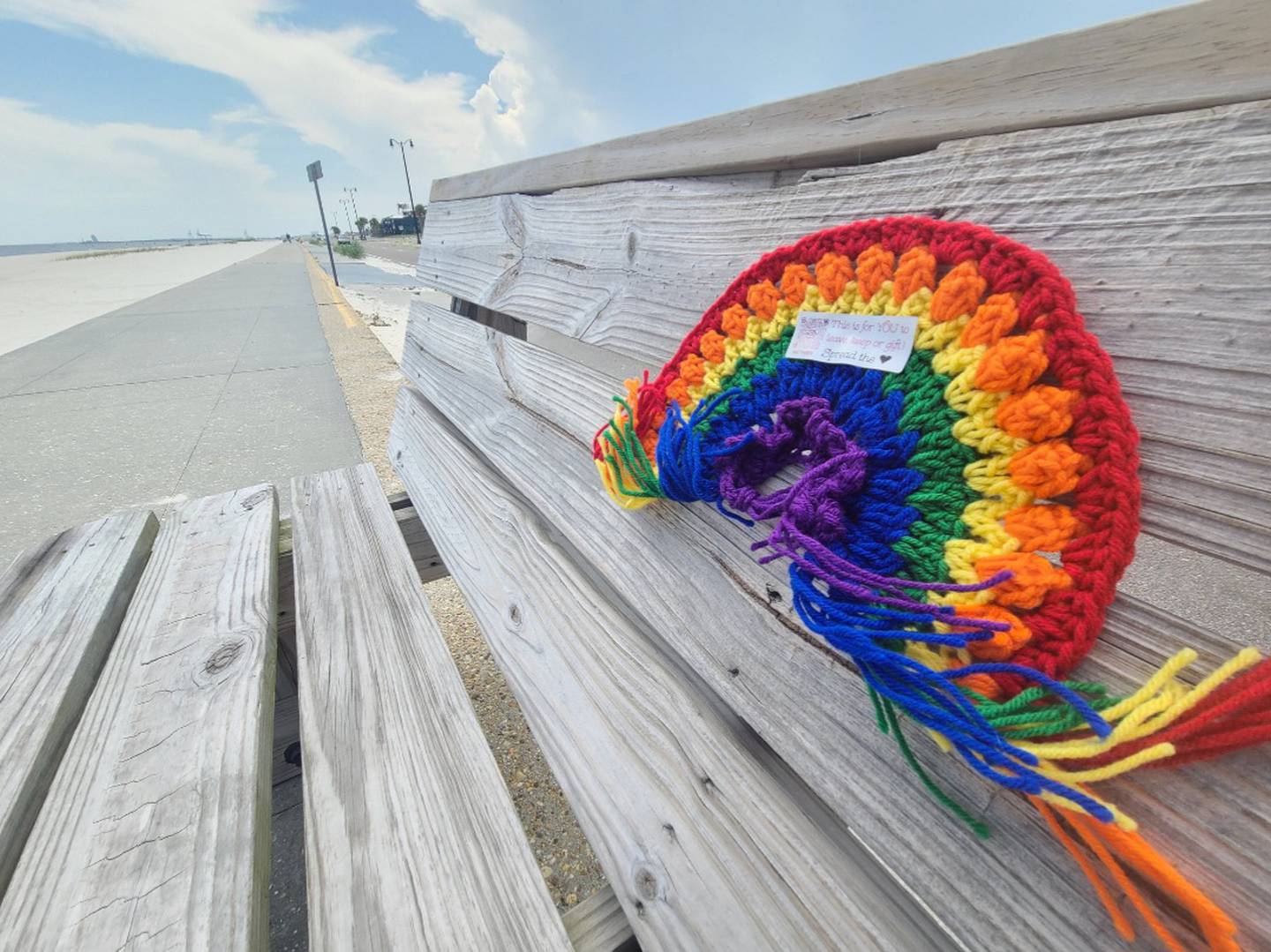 When asked why Knotty Harts wishes to remain anonymous, they told WLOX they want the attention to stay on the art.
"It's bigger than one human. The goal is to make people smile, feel included and encouraged," Knotty Harts wrote. "Who of us couldn't use more positive energy and love? It's been a pleasure to introduce this unique art style here along the Gulf Coast."
But Knotty's designs have stretched far beyond the Coast; in early April, Knotty Harts was invited to the International Yarn Bombing Festival in Cologne, Germany, an event that brought together over 60 fiber artists from across the world.
Knotty Harts' future is as bright as their designs; currently, they are working on pieces for the Yarn Bombing Festival in Lecco, Italy, International Yarn Bombing Day in June, and a piece for the USM Gulf Coast Library, on top of other commissions and events.
World-wide recognition is nice, but Knotty says the most fulfilling part of the project is the local feedback.
"We've gotten thousands of messages from people who express how they've interacted with the art and how it makes them feel," Knotty wrote. "There have been so many inspiring stories that keep us going. We're humbled to have fans aged 2-100."
Each month, Knotty Harts releases an updated scavenger hunt with current locations for street pieces in the wild. Find updated lists on their Facebook @KnottyHarts and their Instagram @KnottyHarts. Make sure to take pictures with the designs once you find them, and tag Knotty's accounts!
Donations can be made to @Knottyharts on Venmo and $KnottyHarts on Cash App.
Click here to subscribe to WLOX News on YouTube: Keep up with South Mississippi news, sports, and local events on our YouTube channel!
Copyright 2023 WLOX. All rights reserved.