BAY ST. LOUIS, Miss. (WLOX) - The Coast Life brings all kinds of adventures, and one group of fishermen takes finding the biggest fish in the sea to an extreme level.
Before catching the big fish, Omar Vasquez Jacquet from Ocean Springs comes face to face with them.
"For you to find this fish you have to go super deep [in the water]," said Jacquet.
Omar's favorite spot to dive for fish is about an 80-mile trip from Bay St. Louis by water to offshore oil rigs.
"The oil rigs are artificial reefs, and they hold a lot of schools of big, big fish," said Jacquet. "Once you jump down there, there's nothing like it."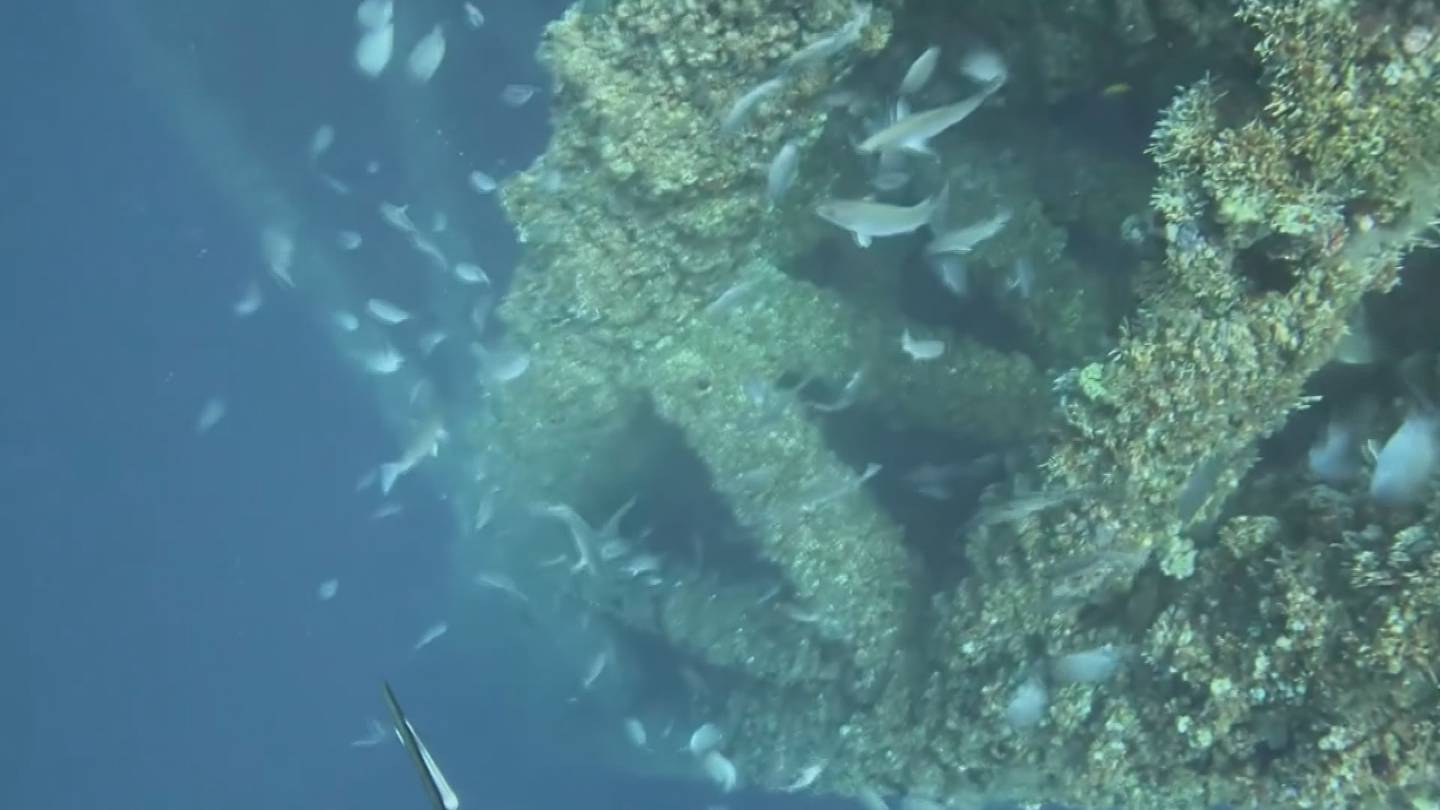 For this type of fishing, there's no need to bring the rod and reel.
"Once you get down there and see what you can catch, you're never going to use a rod and reel again," said Jacquet.
Garret Bible from Picayune usually joins Omar for the underwater hunts.
"We're down on these tanks here 100-200 feet below the ocean floor shooting fish," Bible said.
They carry spear guns under the water and fire the spears when they see the fish they want.
"It's a lot of fun, it's beautiful, but we're hunting. So we're trying to target the biggest one, the one we want to shoot and we're in pursuit," said Bible.
Bible's 9-year-old son Brantley is also a regular on the expeditions. Brantley is still looking for his first underwater kill, but he's already hooked on the adventure.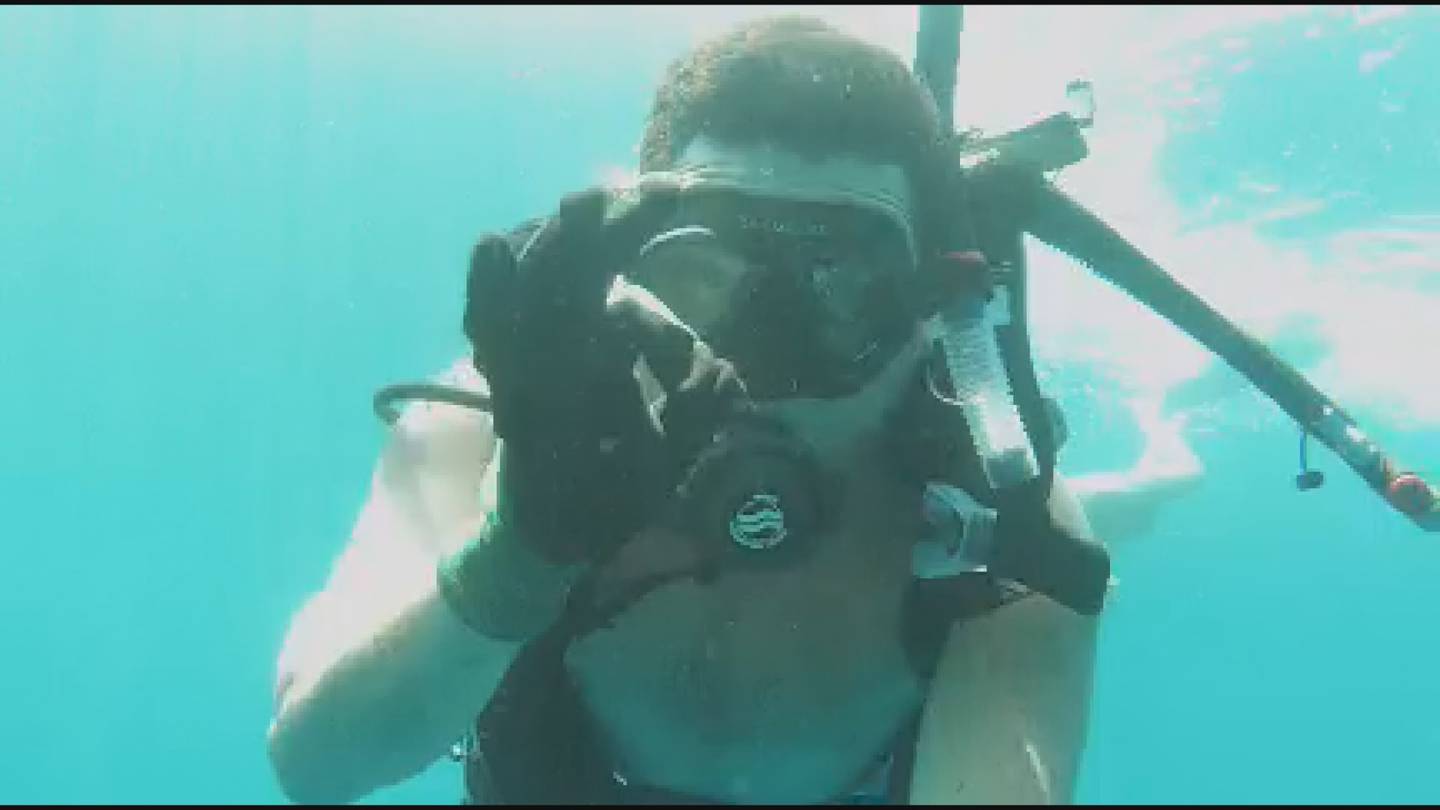 "It was beautiful," said Brantley Bible. "I saw some fish that looked like LSU colors. You feel like you're going to get stung by a jellyfish, and we saw a shark in the distance. It was beautiful, I love sharks."
Sharks are a regular sight when diving, but with this group, there is no fear.
"People don't want to do it before because they were scared of sharks — you shouldn't be scared of sharks," said Jacquet.
If the fear of sharks wasn't enough to overcome, on some trips Omar free dives, that means diving without a tank and holding your breath.
"Once you start going down deeper and deeper your brain is going to start lying to you saying you have to get out, but you still have a lot of air in your lungs all you have to do is swallow, get horizontal, relax and then air will come to you and you can stay longer," said Jacquet.
If a trip is successful, all the extreme risks are worth it.
"We eat like kings," said Bible.
Omar thinks there's a big opportunity to grow not only his favorite type of fishing but also the seafood industry as a whole off the Mississippi Coast with the creation of more artificial reefs.
"It's all about getting the restaurants, the seafood markets together and then we can sink boats that have no more use," said Jacquet. "Let's sink a boat behind Horn and Ship Island, then we can grow this fish. It will be like having a sanctuary."
While there may be room to grow the fishing industry, the opportunities for adventure remain aplenty.
"We live in the most beautiful place in the world which is Mississippi," said Jacquet. "I've dived all over the world and I'm going to tell you my favorite place in the world is Mississippi."
Before trying this extreme brand of fishing, you'll need training, and the first step is learning how to scuba dive.
For the training, Jacquet recommends Adventure Locators in D'Iberville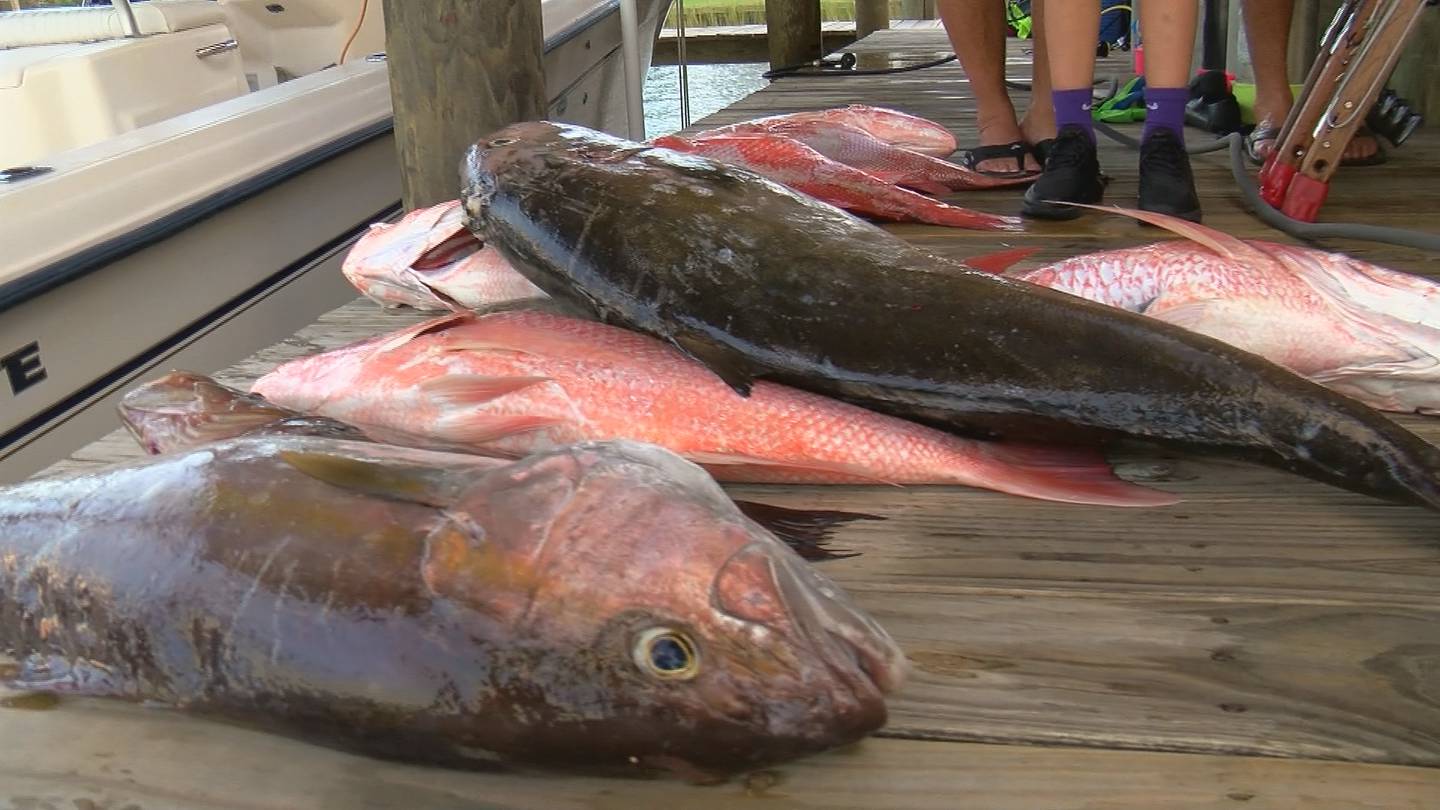 Click here to subscribe to WLOX News on YouTube: Keep up with South Mississippi news, sports, and local events on our YouTube channel!
Copyright 2023 WLOX. All rights reserved.